We have been reflecting on the many entrepreneurs and businesses who have engaged with us since the Centre was successfully relaunched in August 2013 as 'Stockport Business and Innovation Centre' (SBIC).
By providing support to people and their ideas the centre has seen dozens of start-ups and fledgling businesses grow. Utilising the experience of Oxford Innovation Space, the managing agent, and a dedicated on-site team, SBIC maintains an environment for businesses to collaborate, fostering both innovation and development.
One story, I think it is fair to say, highlights this more than any other, our customer LiCa Scientific Recruitment's.
Matthew Rollinson, Founder and Director talked us through their story so far…..
"We found SBIC in 2016, a significant moment for my start-up company, then based at home. It was a classic 'kitchen-table' business operation but was rapidly growing and I needed a more formal workplace. I did not need or have the budget for an office, but I needed a 'proper' workspace and environment. After viewing the centre, I decided on a virtual office, providing a business address, this came with use of the business lounge, which was perfect, a great first step for my fledgling business.
With good opportunities to network I quickly discovered colleagues in the centre who were doing similar things and before long was coming into SBIC regularly, business grew, and I took a permanent desk in the shared office. This was low cost and low commitment, ideal. Had things not worked out then contractually it was low risk and low consequence, so it gave me the confidence to 'move in' as it were, despite only being a month or two into the venture.
Once business grew and I was able to start employing staff, SBIC stepped in again to help with stage 2! We took office space which we could furnish and utilise as we needed. Growth creates growth sometimes and it did with us, we grew again, moving to a larger office still, giving us the flexibility to capitalise and add more people as needed.
During COVID, like many, we saw a huge drop in trading volumes however during this difficult time SBIC stepped in again. We moved to a smaller unit which I affectionately called the' broom cupboard' with much, much lower costs, that kept us going, with a workplace and ability to function.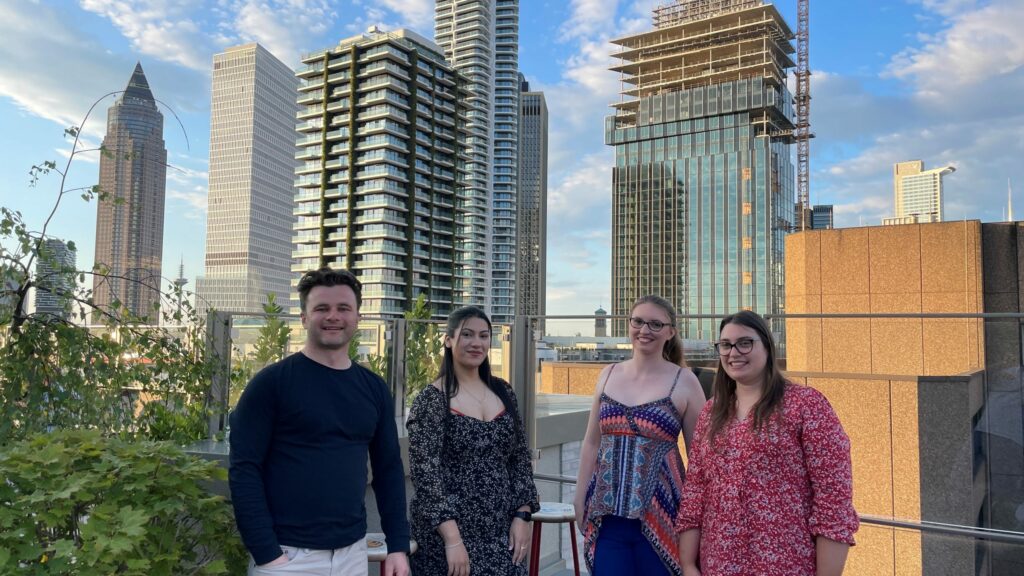 Above – Matthew and most of the team in Frankfurt…
Post COVID we saw a rebound and this led to a decision to move again. We did not 'need' to grow but none of us wanted to turn away clients. We went for it, and it has worked well, five people now work successfully at LiCa!
I put a major part of the confidence we had to re-build down to the flexible lease terms we enjoy here, risk is massively reduced. As a business we can strike while 'the iron is hot', without worrying too much about getting the planning on office space exactly right.
The ability at SBIC to 'concertina' the company, shrinking as well as growing is a fantastic feature that truly supports businesses, from which we have greatly benefited.
In business, not every month or year is good, I think we all know this post 2020. However, SBIC have facilitated our growth and now we trade multi-nationally.
Along the way we have had difficult moments, lost clients, had blank-sales months but having a centre full of other entrepreneurs and people used to working with entrepreneurs is great and makes a massive difference.
The community here is vibrant but also professional and realistic. I enjoy discussing the issues of the day with people, the training and development opportunities we have benefited from have been fantastic, top notch.  Necessary things like budget and management training have given us a clear focus.
Some of my best network contacts have come through SBIC and the unintended consequences of working here, not least international trade connections have seen me doing business in 5 countries and even deciding to learn German over the last 4 years!
We also participated in the Pioneer 10 programme which really professionalised the business planning and forecasting elements of the business, providing a super network of experts to look over our operations and provide guidance, challenge and feedback.
It's a great space, I'd recommend it to anyone…. It's safe to say the decision to walk into SBIC and talk to the team changed my life. I've no doubt LiCa Scientific would always have been successful however the big 'how' of that success would be very, very different, and I would wager, a bit less fun along the way."
We are delighted that our targeted business support, available to all our customers, Pioneer 10 programme and terms aimed at start-up businesses are really making a difference!