Masterclass: How to win new Business
June 20, 2018 @ 9:30 am

-

12:30 pm

Free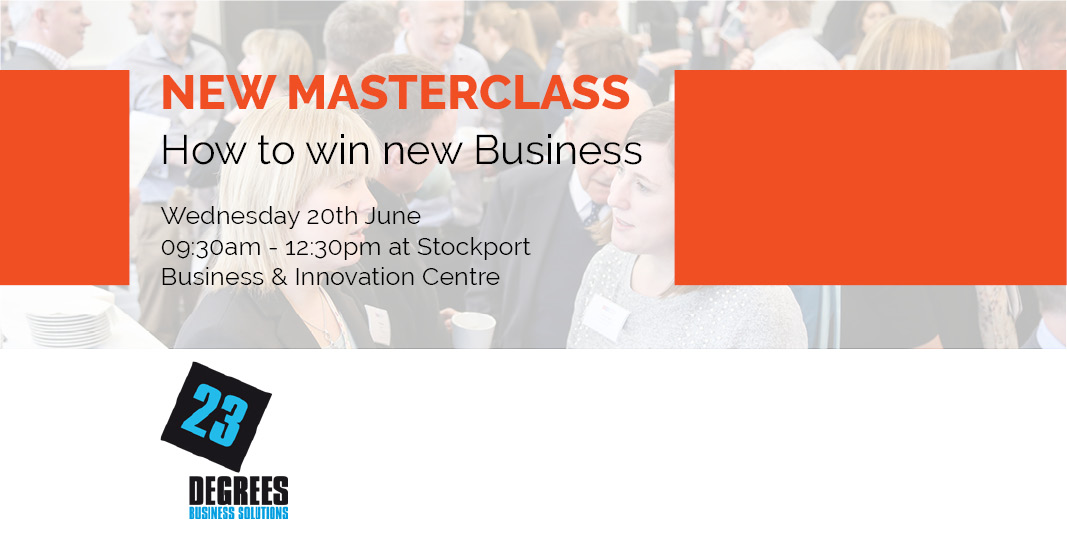 In this workshop we work on how to get more business from some surprising places (often under your nose!) and with little more effort!
We will explore:
What we need to do to get more business
How we need to act to get more business
What we need to say to get more business
You will get a better idea of where (really where) your business comes from….and once you understand that…you can reach out for more of the same!
We will work on:
Strategies for more business
Understanding the mistakes businesses make
Generating an unpaid sales force
The session includes:
What is an early adopter?
Look after your early adopters
Getting referrals & Testimonials
Growing your customer base
Winning business
See it from your customer's point of view?
Your message
Your elevator pitch
Making "no" not an option
This three hour workshop is ideal for businesses of all sizes but is typically targeted at the business owner or the person in the business predominantly responsible for the sales and marketing of the business.
This workshop is interactive and will give every participant time to work on their own and in groups, on the specific messages, challenges and opportunities which exist in their business. Each participant will be provided with a work book to complete during the workshop and to refer to and expand on in their own time.
---
Workshops run by experts
Kevin Sanders is the founder of 23 Degrees Business Solutions and a professionally qualified (Institute of Marketing – Diploma in Marketing), experienced marketer and corporate individual with more than 25 years experience in marketing and business development. He has operated at a senior level in ftse listed businesses, as well as advising at board level in MBI's and fast track business start ups. He has a serial track record of assisting in the business development, branding and corporate identity in many industry sectors including:
Manufacturing (Chemicals, Plastics, Paper, Electronics)
Service Industries (Insurance, Health & Safety Training)
Professions (Solicitors, IFA's, Insolvency Practitioners, Construction Professionals)
I.T. and Software Developers
Creative Services (Advertising Agencies, Website Developers, Graphic Designers)
Retail