The team leading Stockport's new Merseyway Innovation Centre has now been announced.
Naomi Timperley is the centre's Innovation Director and will provide strategic coaching and growth and innovation support to businesses who use the space. Rob Kates has been hired as the Centre Manager, tasked with building the hub's community. Gordana Maljkovic is Assistant Centre Manager, overseeing operational performance and customer experience, while Emma Husband, Customer Experience Assistant, will help businesses using the space to integrate into the setting.
Naomi is co-founder of Tech North Advocates and We Are GSI Ltd and has been named one of the top 50 Most Influential Women in UK IT by Computer Weekly every year since 2018. She is an experienced growth and innovation consultant, having spent 12 years mentoring and working with start-ups and growth businesses, particularly in the tech, digital and creative sectors. She is an Honorary Industry Fellow at the University of Salford Business School and on the Industry Advisory Board. Naomi also sits on the boards of charities Digital Inc, Vocaleyes CIC and social enterprise PIE, as well as being a Growth Partner for Inspirent's Manchester Growth Club.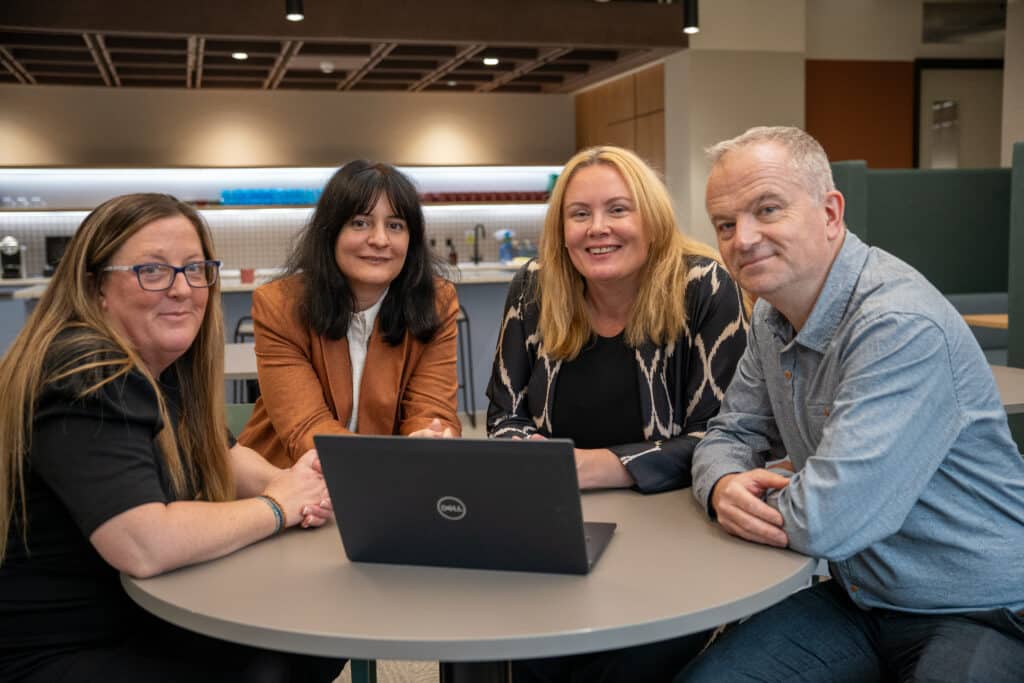 Rob comes from a creative background, having spent 15 years as a theatre production manager and with experience in live corporate events and installations within museums and exhibitions. More recently, he has been involved in property management and says his ability to collaborate, build connections and take an innovative approach to business is what makes him right for the role.
Gordana has spent more than two decades working in corporate hospitality, with an academic background in tourism and hotel business. Meanwhile, Emma, has a background in administration in real estate and engineering, and experience in hospitality in the charity sector. Now both part of the Merseyway Innovation Centre team, they will focus on enhancing the hub's reputation for excellence, as well as delivering a market-leading service in terms of its facilities, support and collaborative connections.
Speaking of the potential of the centre, which will be managed by Oxford Innovation Space, Naomi said: "A strong network teamed with business support allows people to achieve their goals and unlock all kinds of opportunities. At Merseyway Innovation Centre, we're committed to helping individuals and businesses from Stockport and the wider North West area establish valuable connections that will inform and inspire future growth, collaboration and success from one amazing location. The centre will breathe new life into the town, creating a dynamic addition to Stockport's already vibrant community of ambitious, creative and entrepreneurial businesses."
Rob added: "It's amazing to be part of the transformation of this formerly unused retail space into a business hub for established and growing businesses in and around Stockport. The way Merseyway Innovation Centre is designed with a choice of offices, coworking space and meeting rooms – all teamed with business support and an upcoming calendar of events – means that it is the ideal option for businesses and individuals looking to connect, collaborate and grow alongside others."
Oxford Innovation Space will manage Merseyway Innovation Centre on behalf of Stockport Metropolitan Borough Council, as part of the Innovate Stockport portfolio, which includes Stockport Business & Innovation Centre at Broadstone Mill and Merchants House in the Market Place. The Merseyway Innovation centre offers flexible accommodation from coworking space, to shared offices and individual units from 100 sq ft up to 570 sq ft plus a 1,000 sq ft business lounge. It also offers excellent cycling facilities, rooftop parking and vital digital connectivity offering Gigabit-capable broadband.
Cllr Colin Macalister, Cabinet Member for Economy and Regeneration at Stockport Council, said: "Merseyway Innovation Centre is one of the early success stories of Stockport's Economic Plan. It is great to have such a passionate, knowledgeable and experienced team on board who are just as invested as we are in supporting local, growing businesses to achieve their full potential."
Merseyway Innovation Centre has been made possible through funding from the EU's European Regional Development Fund (via Northern Powerhouse), Stockport Council and from the Department for Culture, Media & Sport's Cultural Development Fund managed by Arts Council England.
Get in touch with us today to find out more!