A start-up company which provides filming and analysis services to sports at all levels of participation has won the Pioneer 10 Stockport Grand Final, organised by Stockport Business & Innovation Centre (SBIC).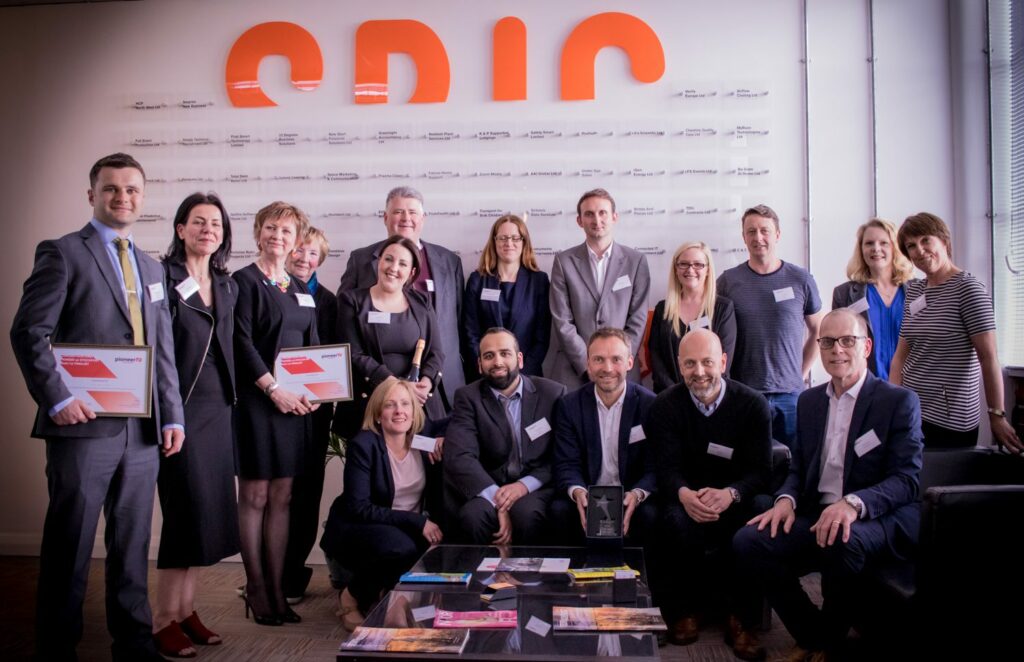 FilmMyMatch came out on top after a panel of judges heard pitches from all finalists last week at SBIC in Broadstone Mill, Reddish.
The company has a strong pipeline of filming and editing work already secured with both elite level organisations (such as the Football Association) and a wide range of grassroots sports teams.
FilmMyMatch Directors Robert Hezel and Dave Roe are both MBA qualified and come from a sports sector background, providing them with a wide range of high level contacts within the industry. They were able to outline the future of the business with confidence and clarity, based on a strong and credible business plan.
The panel were impressed with the breadth and depth of market opportunity and the vast product and content opportunities for the business. Live-streaming in particular is an exciting area of development.
While currently busy filming grassroots cup finals for community football clubs, the company already has an extensive client base of rugby and hockey teams, and aims to capitalise on the 100,000+ sports fixtures taking place in the UK each month to have in place 50 30ft camera masts and 14 employees across the country by 2020.
Dave commented: "There is a strong and growing appetite for capturing games, either to analyse performance or create memories that can be shared with family and friends and give a big feel occasion for athletes at any level. The concept has been really well received."
FilmMyMatch is now set to benefit from a significant package of business support worth up to £15,000.
Dave again: "We are delighted to win. We are in just our second year of trading and access to the expertise provided via the competition – including an office to be based from here at SBIC – will allow us to make much quicker progress – which is very motivating."
Competition organisers at SBIC invited applications from aspirational small businesses with great business ideas during 2016. This formed a pool of exciting new talent.
Ten 'finalists' were chosen from that pool and given access to the Pioneer 10 business support programme, which provides training and mentoring for entrepreneurial early stage businesses, taking them all the way to the competition final this week.
Other finalists included LiCa Scientific Ltd, a recruitment agency for the pharmaceutical sector; Limon Attire – a designer and supplier of dignified garments for those living with dementia; Esteem – No Pause – a designer of high performance fabrics to tackle night sweats; Maths Tutor Help – specialist maths coaching on and offline and Parents2u – a designer of parent-led communication platforms for schools.
"We are delighted to win. We are in just our second year of trading and access to the expertise provided via the competition – including an office to be based from here at SBIC – will allow us to make much quicker progress – which is very motivating."
Dave Roe, Director at FilmMyMatch
Tony Corcoran, Incubation Director at SBIC, said: "This year's shortlist represents a diverse mix of businesses and everyone has done brilliantly to get to this point. Our warmest congratulations go to FilmMyMatch – they have been outstanding candidates throughout the process."
The £15,000 high impact Pioneer 10 package will pool the combined resources of Oxford Innovation – who manage SBIC – and Pioneer 10 partners – Stockport Council, Gorvins; Clark Nicklin; Tangent Design; Souter PR; Appleyard Lees; GM Business Growth Hub; Manchester Business Radio and Royal Bank of Scotland.
The Pioneer 10 programme is part of SBIC's continued commitment to support entrepreneurs. SBIC provides flexible office space specifically aimed at nurturing fledgling businesses and offers on site mentoring and support to help start-ups and young businesses develop and deliver a robust business plan.
The facility is managed by Oxford Innovation and owned by Stockport Council.
Caroline Simpson, Corporate Director, Place, at Stockport Council, said: "Congratulations to FilmMyMatch on this amazing win. We wish them every success for the next stages of growth and development for the business."
"Our best wishes also go to all the runners-up – entrepreneurship is clearly alive and kicking in Stockport. Being shortlisted is a real achievement and they should be very proud of themselves. Stockport Council and partners are always seeking to identify businesses that might need support and who can help our local economy thrive. We have every confidence in all the businesses here today and will be watching their progress with great interest."
For more information about Stockport Business & Innovation Centre visit www.stockport-bic.co.uk or call 0161 443 4100.