We have some fantastic news to share with you!
Our T Level student Ava who we introduced to you last year successfully finished her placement with us in June, a real achievement. However, the big news is that she has got a full-time position here within SBIC with our lovely customer Greg Middleton Wealth Management! She was looking for a finance-based apprenticeship or similar and it just so happened they were recruiting for a new team member, Ava applied and was the successful candidate.
So we thought we'd take the time to find out a bit more about Greg Middleton's company, Middleton Wealth Management Ltd, which he established in 2013. With extensive experience as a financial advisor and obviously a business owner himself, he now specialises in assisting busy company directors optimise profits, supporting them during growth phases and to prepare successful exit strategies.
Greg told us, "In January 2017 we relocated to SBIC, starting with a small office, and gradually moving to larger spaces within the centre to accommodate our growing company. I started out with a clear focus to deliver exceptional client service and this hasn't changed and is driving our ongoing expansion. We are all results focused with our team of four support staff working hard to provide everything our three Financial Advisers need with ambitious plans to double the business in the next five years.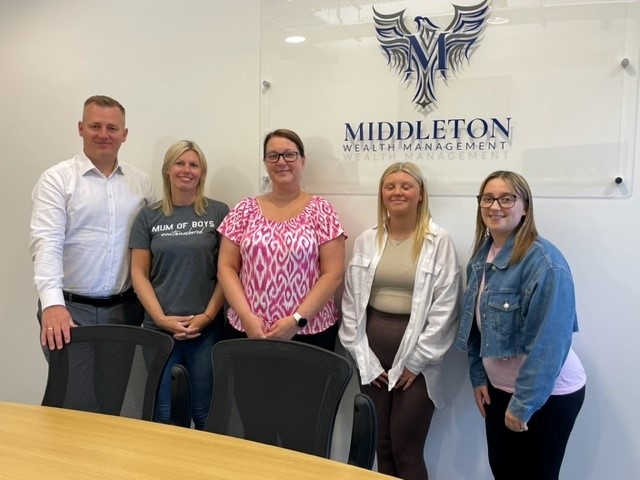 We have found recruiting for a small company presents its own unique challenges. Not only do we strive to attract suitable candidates, but obviously want to find the perfect fit for the role whilst balancing the recruitment cost. The time invested in the rigorous recruitment process is substantial, but it is crucial to ensure a successful onboarding and integration of support team members, we really do want to get it right!
Collectively we are determined to provide opportunities to fresh faces and nurture talent for the industry. We have faced recruitment challenges but are still determined to find candidates who align with our company's values, and who we believe can make a success of their roles with our support and guidance.
We had witnessed Ava's growth and development over the previous year in her front of house T Level placement with SBIC and I discussed with the centre team that we felt it could be a good fit if she was interested in starting a financial career with us. We were actively recruiting for a support role, so things moved quickly, and after interview and careful consideration we really thought that she was the perfect match for us. We think Ava has real potential to thrive in the position and so were obviously excited to offer her the opportunity to join our team.
Ava has been appointed as a Client Servicing Administrator. Her primary role is to support the Director in the smooth running of the practice, including managing regulatory obligations, marketing initiatives, and client servicing. There's lots to learn but she is embarking on a structured development path, progressing through Bronze, Silver, Gold, and Platinum accreditations, gaining recognised qualifications. This internal recognition program guides development in her current role whilst flagging areas of strength and potential specialisation she may wish to pursue in the future.
Despite lacking direct experience in our field and it being her first job, Ava's really settled in well. She is a quick learner, really motivated, and clearly wants to develop her skills and knowledge. We are so pleased; she has already gained her Bronze accreditation in record time, very impressive indeed! Having witnessed her growth and increasing confidence just in these first few weeks, we are delighted to have offered this remarkable young lady an opportunity and have her on the team."
Liz Wood, Assistant Centre Manager, SBIC said "Having developed a relationship with Trafford College Group and committed to support their placement programme we felt Ava showed great potential when she came to visit the centre in September 2022. We agreed to take her one day a week to fulfill the next phase of her education, the new T Level qualification. It's been an absolute pleasure to see her develop and gain confidence in the workplace and we are all beyond delighted to be part of her successful journey into the world of work… it's really cemented our support for the T Level programme going forward and we hope to welcome another student this September."