Wattl, our 2018 Pioneer 10 winner has had an office here at the centre ever since, however, like most companies over the past sixth months they have embraced home working and are tackling things differently.
Emma Ryan CEO told us, "After getting over the frustrations of not being able to implement the activities we had planned for Spring and Summer this year and settling in to a new life, each day has brought with it highs and lows."
She continued, "The future is still uncertain for the next 12 months I feel, however, the Government and Council are being supportive implementing new schemes to help kickstart and keep small businesses moving."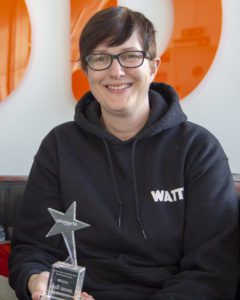 Looking forward, Emma is positive, "I'm really keen to work with the Council to make an application for the Kickstart Scheme.
It enables companies to hire young staff, with wages being covered by the scheme, in return for training and inclusion in your business.
The result being a kickstart to our growth and giving back to younger people who are struggling right now to find jobs and careers."
Going full circle, 4 years ago before Wattl was a thing or had an office, the team were working from home and brainstorming ideas around the kitchen table.
It was then that the idea for Wattl was born – the goal, to create a world beating video discovery platform.
A lot has happened since then and the team's hard work and focus has created much success.
Wattl is now an established platform that puts the users at the heart of everything that they do, giving everyone a voice and bringing people together through shared interests.
With the technology now written, they are ready to grow the team and bring a new level of video discovery to users across the world which is super exciting.
They are also looking to work with brands in the Greater Manchester area who are already leveraging the power of video advertising and influencer marketing through Instagram, TikTok and YouTube to demonstrate to them a new way of reaching new and different markets.
So, we look forward to supporting their ongoing development with all things SBIC, watch this space!!!